I've been on such a mixed media, shabby chic card kick lately and I'm totally loving it! It seems like I switch back and forth between genres and stay on that for awhile.
Since I love working in mixed media, I'm always happy when my brain decides to let me play around with textures again. Clean and simple cards make me smile when I'm done, but I don't quite find the same creative release. What's your favorite/most relaxing genre of card to make? I'd love to know!
This card was inspired by dual challenges. The first is the new
STAMPlorations challenge
. For this challenge, you can either use the sketch
OR
the theme
OR
both. And there's tons of prizes. And you can use whatever stamps/products you want. So why not?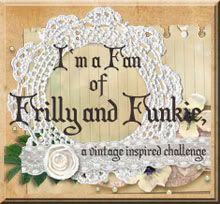 I started this card by using a gorgeous vintage inspired paper from Bo Bunny and then I used the Foiled ARTplorations stencil.
Next, I added a frame and some flowers. I aged the flowers by using some gelatos on the edges and wetting it with water.
I saw a really cool embossing technique over at the oh-so-talented Shirley Bampton's blog and I knew I wanted to give it a go.
Here's how it goes: Sprinkle on some embossing powder - you don't have to use embossing ink.
And then, instead of applying heat to the top, heat it from the backside.
It gives AMAZING texture. Maybe I'm the only one on earth who didn't know this was a thing, but I thought it was SO cool. Thanks Shirley!
I also embossed three of the butterflies from the Trendy Butterflies set, fussy cut them, and interspersed them amongst the flowers.
Love, love, love how this one turned out! So shabby chic, and I'm obsessed with those burlap leaves!
I'm also going to send this over to:
Aud Sentiments - use a love sentiment
Time Out - Inspired by Words - Love is a flower you've got to let grow
Thanks for popping by and make sure you
go check out
what the rest of the design team has whipped up. I would love to see you play along!