I maaaay have mentioned in my last post, that I was one of three people on an 8-foot table at the Crafty Crop I attended this weekend. I also had the proud title of "new girl" and was very conscious about how much sprawl I could manage before I was kicked out or put on the black list!
So the majority of my cards were clean-ish (because for me, clean is a relative term that means anything that doesn't get my hands [or my face, hair, or clothing] full of ink and texture paste).
One such example of the clean is this adorable Moosey from the Lawn Fawn Arctic Critters set:
It's so funny because the moose doesn't even have a mouth but you can tell he's smiling. I framed him out and added a little baker's twine and then dry embossed the background before inking it up with my brayer.
I'm sending this adorable guy off to cavort around in the following challenges:
Lawnscaping Challenge - Clean and Simple
Just Us Girls Challenge - Word Week Love
But the problem is, the more I tried to control my sprawl, the more I began to crave the feel of texture paste against my skin. - Ok. I'm being dramatic here. :D I finally did break down, though, and completely cleared off my workspace before destroying it with mixed media. Hehehe.
In fact, I purchased some Distress Spray Stains and gleefully pulled them out of my bag. The store owner, Autumn, visibly went pale and made me cover up my section of the table with a plastic cloth first - even though I had my Ranger nonstick mat. Probably a wise choice on her part.
The first card I made definitely was worthy of that plastic tablecloth's glare.
I sprayed and I sprayed and I sprayed that background with Distress Spray Stains and Heidi Swap glitter spray in red and gold. Then I used a stencil and some Wendy Vecchi Crackling embossing paste to create these gorgeous textural hearts. I really like to use my heat tool on this paste, instead of letting it air dry 1) because I'm an impatient buffoon and 2) because the embossing paste will start to bubble and raise in areas AND crack. Gorgeous! I then spritzed that with more gold spray, added a doily and a heart and
By this point, most of my newfound crafty Cropmates were staring at my mess with abject horror. Although a couple of them were intrigued and asked about the paste, so I felt pretty chuffed when I got to show some of them how to use a stencil for the first time.
This card is going over to frolic in the following challenges:
Make Art Monthly Challenge - Hearts
Craft Stamper Take it, Make it challenge - Stencilling
Mixed Media Card Challenge - Love (with the Option of buttons)
And then I got even messier.
This was my final card and was made in the 11th hour (literally) of the crop.
Because it was my first time using spray stains, I wanted to try a bunch of things out. I used this Premium Burlap paper from DCWV and spritzed the heck out of it with Distress Spray Stain in Antique Bronze and Barn Door Red.
I attempted to use a stencil and Picket Fence Spray Stain to create some hearts:
FAIL! I think the burlap was already too textured and absorbent for anything to work, but cool things usually happen from failures anyways when it comes to mixed media.
I cut the burlap in the shape of a heart and used Wendy Vecchi white embossing paste and a stencil to create some additional texture on top of the card. I also added a key embellishment and a little kraft tag.
I continued the embossed stencil over a piece of patterned designer paper in the background and distressed the edges.
This card is going over to the following challenges:
PINspirational challenge: Inspiration image
Frilly and Funkie challenge: Be my Valentwine
Craft Stamper Take it, Make it challenge
Make Art Challenge - Hearts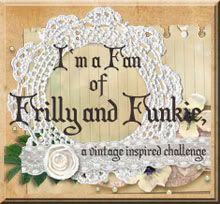 Since I was pretty sure I couldn't top this card, and I wanted to quickly hide my mess away, I stopped. All-in-all the crop was extremely productive and I'm very grateful to have made some new friends!
I'm also grateful for YOU my bloggy friends for reading to the end of this post. You deserve an award. Thanks for stopping by! I love hearing from you - you make my day!!