Yesterday I spent 12 crafty hours at the local scrapbooking store with a group of six ladies, cropping 'til we dropped. I was a teensy bit nervous going into the venture because, well, I've never gone to a crop before and there's nothing like a roomful of strangers with scissors to make a gal nervous.
But the ladies were oh-so-nice and welcoming and I made quite a few Valentines Day cards. I won't inundate you with all of them, but I'll share a few today and a few later this week!
First up is this card that I made with some inspiration from the image at Dazzling Diva and the sketch from "The Challenge"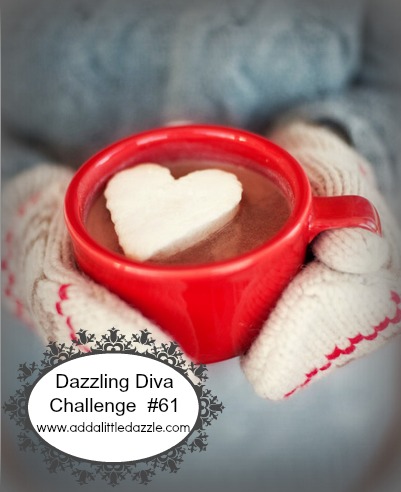 I thought the coffee was so cute and cozy and so I inked up a stamp set from Two Paper Divas that I won called "You Warm my Heart". I paper pieced the mug and added an adorable little button with some twine.
I was feeling pretty self-satisfied with my first card. I held it up for ooohs and aaaaahs - totally different than the normal crickets in my basement (literal crickets... those crafty buggers hide so well and are so annoying!!).
Then I moved on to my next card. Prior to going to the crop, I came prepared with a list of some of my favorite challenges, which made trying to decide what to do so much easier!
The next card went a little less traditional for a V-day card and had tons and tons of bright fun colors. It was inspired by this week's Viva La Verve sketches and is going over to House of Cards "Love".
I added some sponged sunbeams, some funky paper, and made a cute little umbrella embellishment with my Spectrum Noir Markers and some glossy accents.
The umbrella stamp and sentiment is from Verve's "Rain or Shine" stamp set. I just love the way the patterns mix and match here! It's Valentine without being VALENTINE.
And the last card I'll share today comes from my pun-loving brain. It was inspired by My Favorite Things current sketch and is also going over to Chocolate, Coffee, and Cards Challenge "Love is in the Air".
I just loved this one! It's the cutest ever and I'm pretty sure it's going to be the one I give to my boyfriend for V-day. So shhhhh! Don't tell him!
Har Har Har - To my significant otter! That's otterly silly isn't it? I gave him a little glossy accent to his heart and then added some teensy pearl embellishments.
All-in-all it was a lot of fun and I was glad that I was there. For everyone who left me air hugs, and sent me good vibes... THANK YOU! I felt them. :)
Here's to the smorgasbord of love going on!